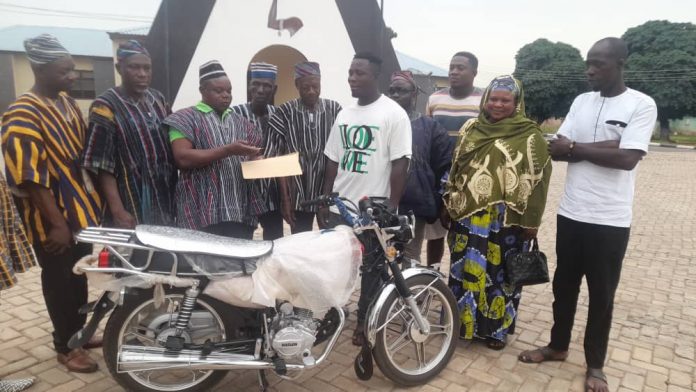 Alhassan Abubakari known as Nakpalawura from Sawla in the Sawla-Tuna-Kalba District of the Savannah Region has been crowned the overall champion of the Shea Wrestling competition in the Savannah Region.
He is expected to represent the region in December during the inter- regional competition.
He took home a brand new motorbike after his contender, Akati from the North Gonja failed to turn up for the final bout in Damongo last Saturday.
The motorbike which was presented to Nakpalawura and his team by a linguist of the Yagbonwura Alhaji Afuli Losina on behalf of the Yagbonwura and the organizers of the Shea wrestling team. He commended the young man for winning the bout and asked him to train hard and bring the biggest bout to the region in December.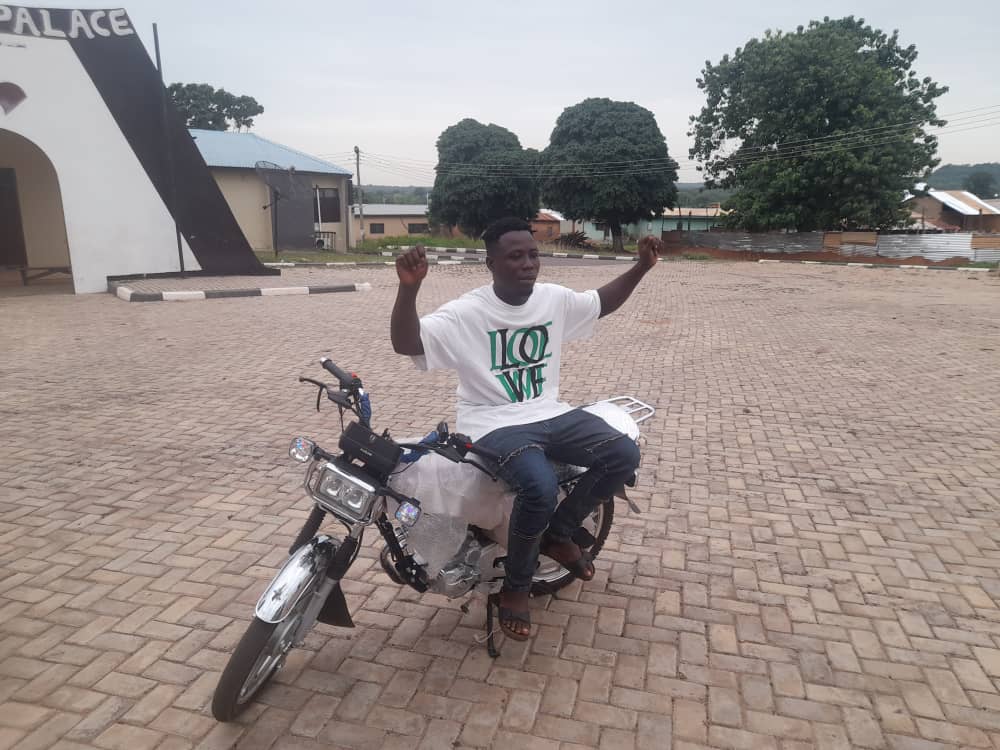 Nakpalawura in an interview with Bole based nkilgi FM thanked the organisers and all the people who supported him throughout the competition.
He used the opportunity to advise the youth in the Savannah Region to take up the wrestling competition with all seriousness it deserves since the prospects is very good.
The Chief Executive Officer (CEO) of the Shea Wrestling Ghana Mr Mufti Habib also in an interview thanked all those who supported in seeing to the success of the competition.
On Friday 25th of March 2022, the Shea Wrestling-GH team staged it's grand finale at Daboya in the North Gonja District of the Savannah Region. The decision was made jointly with the leadership of the Gonjaland Youth Association so, that it will be part of the scheduled activities of the Gonjaland Youth Association's activities for it's 46 Congress and subsequent Congresses.
The Zonal bouts that started in East Gonja steadily drew the attention of the world especially the media to Gonjaland even before it wrapped up in Bole prior to the grand finale at Daboya.
Hundreds of people were at the arena to cheer up their wrestlers. All the bouts went well with Nakpalawura of the Sawla-Tuna-Kalba District winning his semifinal bout against Latif Killer of East Gonja until the semifinal bout between Akati Bayis of North Gonja and D. Lawal was unduly interrupted by the Daboya home fans. Bayis was confirmed by the judges as the winner of the semi final and so the fans from Daboya whisked away the grand prize for the winner, a brand new Hoajin Motorcycle, while chanting Akati Bayis' name as the ultimate winner at the semifinal stage.
Management of the Shea tree Wrestling competition later resolved that, the pending bout (the finals) that will crown it up, should be staged at the Shea Wrestling-GH Arena in Damongo, the Savannah regional capital on the 7th of May 2022 which Akati Bayis failed to turn up.
It must however be acknowledged that through the efforts of the Palace of the Yagbonwura, the grand prize, (the motorbike) has finally been released.
Source: nkilgifmonline.com