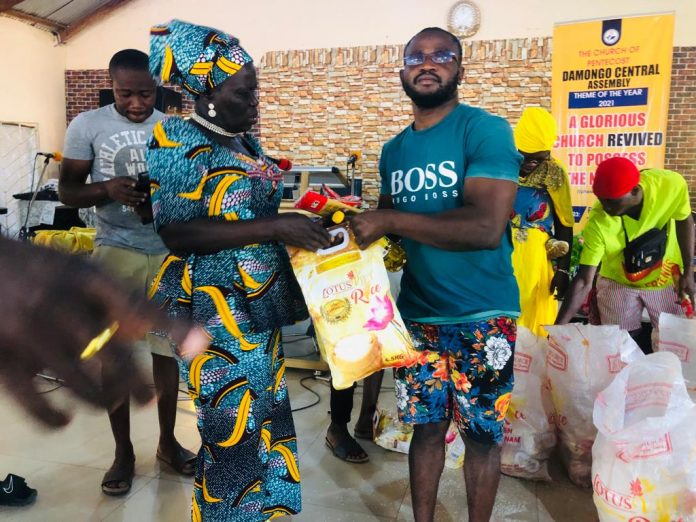 The Chief Executive Officer (CEO) of Emylink Business Center and manager of Damongo based musician Tom Taylor, Mr Emeka Aloh has donated quantities of bags of a rice, cooking oil and other items to some group of widows as part of his annual charity support to help them in the celebration of Christmas.
Speaking at the Damongo Pentecost Church on 19th December, 2021 after the donation, Mr Emeka
who is into the selling of Apsonic products including motorbikes, tricycles and spare parts of motorbikes and also various types of electrical appliances including fridges, air-conditioning machines, sound systems in an exclusive interview with Bole based Nkilgi FM indicated that his success in Damongo is the giving back to society which he said is the secret behind his successes in Damongo.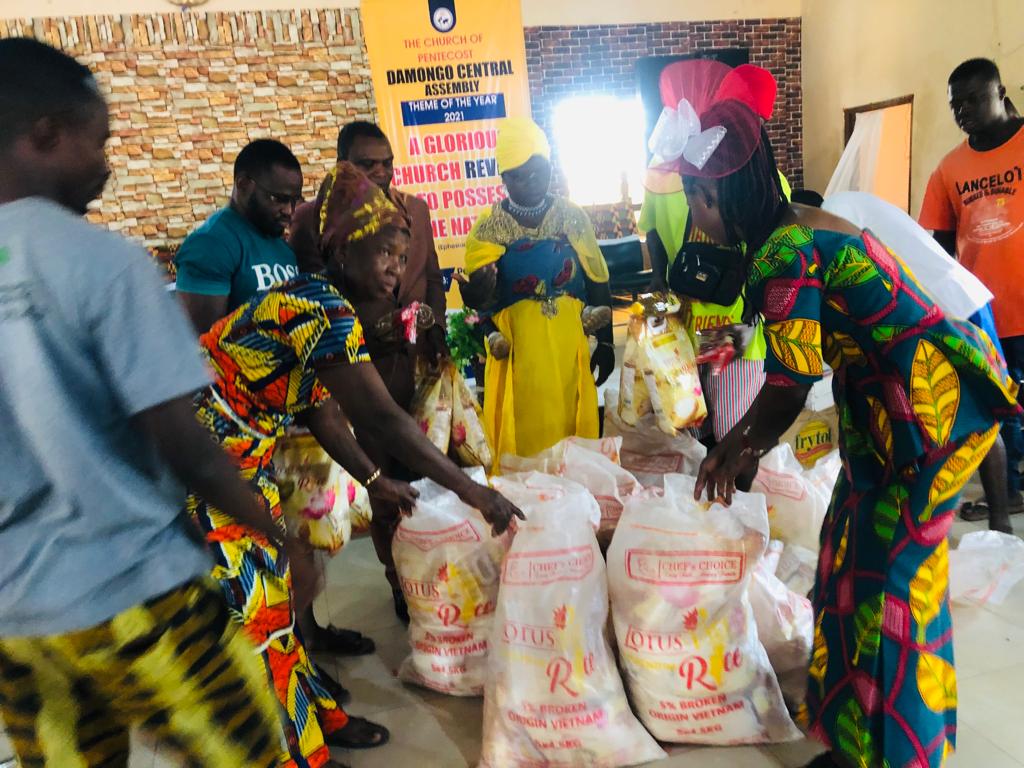 He added that his routine charity to support the vulnerable in the society is to give back what ever he has acquired from the people of Damongo adding that the philanthropic work he is doing is not because he is rich but feels deep inside him that everyone must be a part of the yuletide irrespective of financial position.
He said giving back to society should not only be done only the politicians but every human being who can afford the seven square meal a day.
He therefore encouraged other business owners and everyone to support the less privileged in the society since it is through giving that we receive.
Mr Emeka over the years has done similar donations to the less priveledge in the society irrespective of the religious, tribal or ethnic backgrounds and has promised to increase the number of persons in the coming months.
Madam Mahama Kubura, one of the beneficiaries of the support of Mr Emeka thanked him for the support.
She said it is through Gods intervention that Mr Emeka has come to their aid since she had been wondering what to feed her children with on the day of chtismas only for Mr Emeka to come to their aid. She therefore prayed to God to bless him more to do more for them.
An elder of the Damongo Pentecost Church, Mr Salifu Juan on behalf of the Church praised Mr Emeka for the remembering the widows especially at this time of the year.
He said Mr Emeka in the last couple of years has been supportive to the vulnerable and prayed for him to go more higher. He also used the opportunity to appeal to other members of the Church to emulate Mr Emeka by remembering the poor in the society.
Source: nkilgifmonline.com