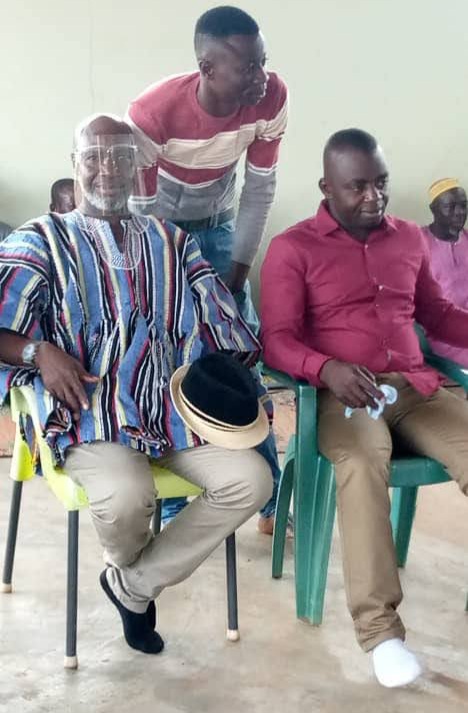 '
An Independent Parliamentary candidate for the Damongo Constituency in the 2020 parliamentary general elections, Mr David Tiki Dange who allegedly "disappeared" immediately after the elections has reappeared in the Damongo Constituency.
Mr Tiki, a criminologists was in the news following his alleged disappearance from the Damongo Constituency according to his chairman Mr Seidu Razak.
Mr Tiki was however spotted at the 50th anniversary celebration of his alma matter the Damongo Senior High School (SHS) on Saturday 27th November, 2021.
Dressed in all white, Mr Tiki Dange, a former entertainment perfect of the school and former parliamentary aspirant of the Damongo Constituency in an exclusive interview with Bole based Nkilgi FM when asked about where he has been hiding said he can never ran away from the land of his birth.
He explained that he was travelling round the world as a businessman after an unsuccessful parliamentary bid.
He said after losing the elections, he was on air on Radio to thank the people of the Damongo Constituency and had the intention of embarking on a thank you tour after his troubles only to see in the media that he was missing.
He added that he called the other two contenders in the election via phone and therefore found it as surprising that he was lost and "missing".
On the 2024, elections, Mr Tiki said his intention for now is how to get to the bridge where he will decide whether to cross to a polical party or move back since 2024 is still far.
He indicated that everybody in the Damongo Constituency must support the member for Parliament with prayers to develop the Damongo Constituency since that is the most important focus for now.
Meanwhile Mr Tiki Dange has donated 200 bags of cement for the construction of the Damongo SHS school fence wall.
It will be recalled that Mr Seidu Abdul-Razak aka Mpa who was Chairman for the 2020 Damongo Constituency Independent parliamentary Candidate (Mr David Tiki Dange) bemoaned the disappearance of his candidate from the Constituency after loosing woefully to the New Patriotic Party (NPP) candidate Hon Samuel Abu Jinapor.
Source: nkilgifmonline.com