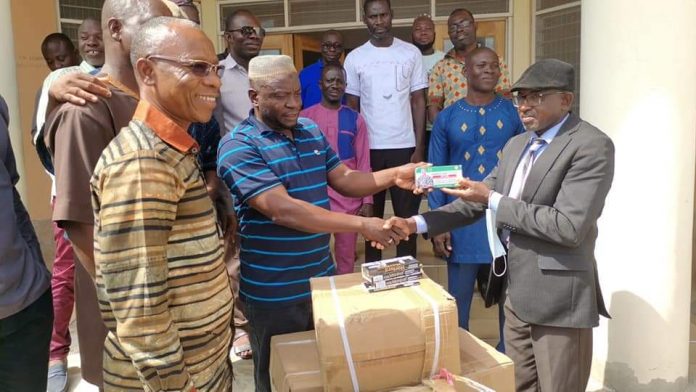 As part of his commitment to quality education across the Sawla-Tuna-Kalba District the MP for the area Hon Andrews Chiwitey Dari has donated 1,080) mathematical sets for distribution to all the 1,040 Basic Education Certificate Examination (BECE) candidates in the Sawla-Tuna-Kalba District.
Speaking at a short ceremony on 1st November, 2021, to present the mathematical sets to the Sawla-Tuna-Kalba District Education Directorate for onward distribution to the candidates, Hon Chiwitey said distributing the mathematical sets will not only motivate the candidates but will relieve parents of the accompanying financial burdens.
He bemoaned the falling standards of education in the area and expressed concern over the non recruitment of new teachers.
He said the Sawla-Tuna-Kalba District need at least 1400 Teachers to cover all schools but the District has only 400 Teachers and because that just schools are understaffed.
Hon Chiwitey said the performance of the Sawla Senior High School in the last WASSCE was not encouraging but added that the schools staff complained of the caliber of students they get from the Junior High Schools.
The M0 said the Basic Schools are supposed to have Teachers, tables and chairs and teaching and learning materials which most of the schools lack.
"As I talk the academic year is about to end but schools are yet to receive text books which has gone a long way to affect Teaching and learning"; the MP bemoaned.
Hon Andrews Chiwitey finally said; "as the students head for their final exams in the next few weeks, I want to wish them all the best".
Mr D J Samba from the Ghana Education Service office in the Sawla-Tuna-Kalba District on behalf of the Director of Education of the District gave a brief speech and expreesed his gratitude to the MP for his numerous interventions in the education sector of the district.
He said it is their hope that BECE candidates in the district will get single digit numbers.
He further said the LGBTQ+ is intertwined with education and as the MP represent the Directorate and quality education and complete education of individuals and so they urge him to support what is needful.
He said the; "issues of the value of a culture and our cultural upbringing are part of things that used to make you and our parents of old to gain quality education".
He said some of these things are being eroded and making it difficult for Teachers to entrench and instill values into children" adding "issues of LGBTQ+ is against our culture and our values".
Source: nkilgifmonline.com