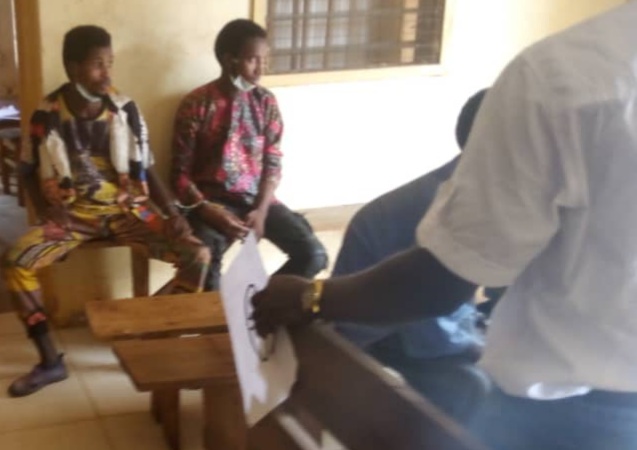 Two out of Four kidnappers from a network of a notorious Fulani kidnappers in Yapei and Buipe in the Savannah Region of Ghana have been arrested by the Savannah Region Ghana Police.
The two are, Haruna Joli, a 20 years herdsman at Yapei and Ibrahim Braima, who is 20 years accomplice
Narrating to the hearing of the Bole Magistrate Court on 27th September, 2021, the Police Prosecutor said after preliminary investigations the two persons who are suspected to be a syndicate of kidnappers were arraign before the Court on charges of conspiracy to commit kidnapping and a second count of kidnapping
The facts of the case indicates that on the 17th of July, 2021. A Police Patrol team on the stretch of Buipe to Yapei night duty patrol stopped a Motor bike carrying two (2) people but the rider of the Motor bike the first accuse Haruna Joli
stopped abruptly and run into the Bush but fortunately Ibrahim Braima the passenger on the motor bike was arrested.
Ibrahim Braima after though interrogations admitted that they were a syndicate of a kidnapping gang and led the Police subsequently to Yapei to arrest the first accuse Haruna Joli who escaped at the Buipe Police barrier.
They both confessed of kidnapping a victim (name witheld ) with two other gang members who are at large for a ransome of GHc 5,000.
They indicated that the ransome was paid by the family of the victim but their gang leader with the alias Borga had absconded with the money.
His worship Prince Cudjoe has charged the Damongo Police Criminal Investigations Department (CID) to investigate and bring the other two accomplice to face the full rigors of the law.
The case has been adjourn to 29th September, 2021 to give the Police ample time for investigations.
Source: nkilgifmonline.com