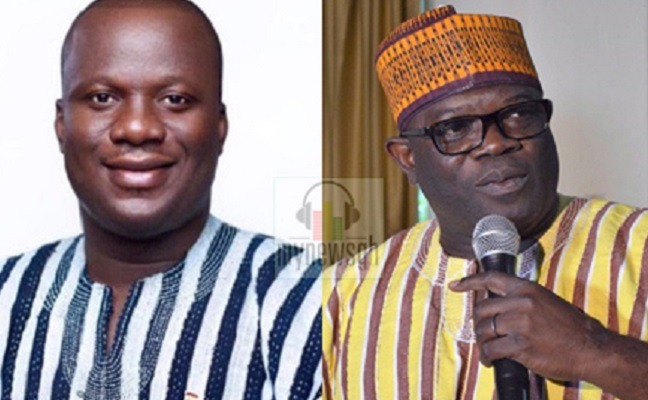 Deputy Chief of Staff, Samuel Abu Jinapor last weekend lost his cool and openly insulted the former Minister of Agriculture, Alhaji Mohammed Muniru-Limuna at the Damba Festival in Buipe in the Central Gonja District of the Savannah Region.
Abu Jinapor according to MyNewsGh.com's reporters who covered the event was quoted to have said "Bullshit, foolish man" among other unprintable adjectives on the former Minister who is his uncle.
According to what this portal gathered, Former President John Dramani Mahama graced the event and when he rose up to speak from the dais, other dignitaries stood up as a sign of respect but the New Patriotic Party (NPP) parliamentary candidate for Damongo remained seated, an act the former Minister observed was a sign of disrespect.
"I approached him quietly and asked he stands up even if the man was not his candidate but by virtue of the fact he is a former President but in response he told me Bullshit," Alhaji Limuna confirmed to MyNewsGh.com.
He disclosed that he walked away and returned later to confront him as to who he was referring to but that open the floodgates to another round of insults.
"He told me in the face I am a foolish man and that he will repeat it 20 times if offered another opportunity. Abu then rushed on me as though he was going to punch me but was restrained by Joyce Bawah Mogtari," he added.
The former Northern Regional Minister disclosed that though Samuel Abu Jinapor is personally yet to apologize for his conduct, his brother, including Hon John Abdulai Jinapor have rendered an unqualified apology for his insulting behaviour.
"His brothers sent some people to me to apologize but I told them I hold nothing against him and that I was very fine," Alhaji Limuna explained.
Meanwhile a supporter of John Mahama, Mahama Haruna has in an article condemned the action of Mr Jinapor maintaining he is arrogant and must not be voted for as an MP.
"I've always said Abu Jinapor is arrogant and he proved it at the 2019 Damba of the Chiefs and People of Buipe last Saturday 30 November 2019.
Yes Abu Jinapor  has a deceptive posturing. He is the most arrogant and snobbish character I've met. I know him in and out and anyone who doubts this can ask Abu who Mahama Haruna is… It is a fact that I sent Abu Jinapor to Nana Akufo- Addo (then at his Ministry of Foreign Affairs office at Tema station) in 2005. This was after he approached me that he wanted to get close to Nana Akufo-Addo. What happened afterwards is a whole story.

Abu Jinapor does not deserve to be an Assemblyman not to talk of MP and I can assure the people of Damongo that they will cry less than a month if they make a mistake and vote Abu Jinapor as MP. I just pray the people of Damongo will discover the true Abu Jinapor before they make any mistake." Haruna warned.

A source close to Abu Jinapor after fruitless attempts to reach him personally, revealed that a national executive of the NDC called him and his father a thief which triggered his outburst.
Source:MyNewsGh.com/Stephen Zoure/2019.